The Unicorn: Everything You Need to Know About Scotland's National Animal

National animals are representations of the spirit of a country. America has the eagle, a symbol of freedom. England has the lion, an illustration of strength. And Italy has the wolf, an emblem of pack-like solidarity.
But Scotland's national animal is a little odd. It's entirely fictional, yet incredibly popular - it's the unicorn.
You may associate unicorns with sparkly children's parties and rainbow backpacks. But the unicorn has been around for a VERY long time and was once revered above any other animal, especially in Scottish history.
So, what's the big deal with unicorns and Scotland? In this article, we hope to answer all your burning questions about this majestic beast.
Did unicorns ever exist?
Well, that depends on who you talk to. I'm guessing your five-year old niece's answer will be a firm "yes."
There was a time in history, however, when the general population believed they existed. This belief was perpetuated by rhinoceros and narwhal horns showing up in strange places. People were better with their imagination than scientific enquiry back then, so this was enough to convince them that these horned beasts roamed the land.
How long have people believed in Unicorns?
This magic animal has awed people for over 3,000 years and continues to enjoy popularity with no sign of falling out of favour. In fact, the unicorn has been mentioned in two of the world's oldest and most prominent religious books: The Bible and the Quran. For a while, the unicorn was even used as a symbol for Jesus Christ.
Why did Scotland choose the unicorn as its national animal?
Unicorns are associated with purity, strength and power. Pretty admirable qualities, don't you think?
They're also proud and untamable – two words many people would use to describe Scots throughout history.
Since the 15th Century, many monarchs of Scotland have used the unicorn in their coat of arms. Kings favored the mythical beast because they considered it to be the best representation of power.
In fact, unicorns were believed to be so strong that only Kings and virgin maidens could keep them captive. Kings were able to do this due to their divine right to ruler-ship and virgins are as pure and innocent as the unicorns themselves.
What's the significance of the unicorn in the British coat of arms?
The British coat of arms depicts a unicorn and a lion flanking a shield. The lion is the national animal of England, and the unicorn represents Scotland; both of which are part of the British empire. It's said the lion is the unicorn's arch nemesis. Moreover, the unicorn is undefeatable.
Did Scotland coincidently choose one of the only animals able to defeat England's national animal? Considering the centuries old feuding between the two countries, we think not.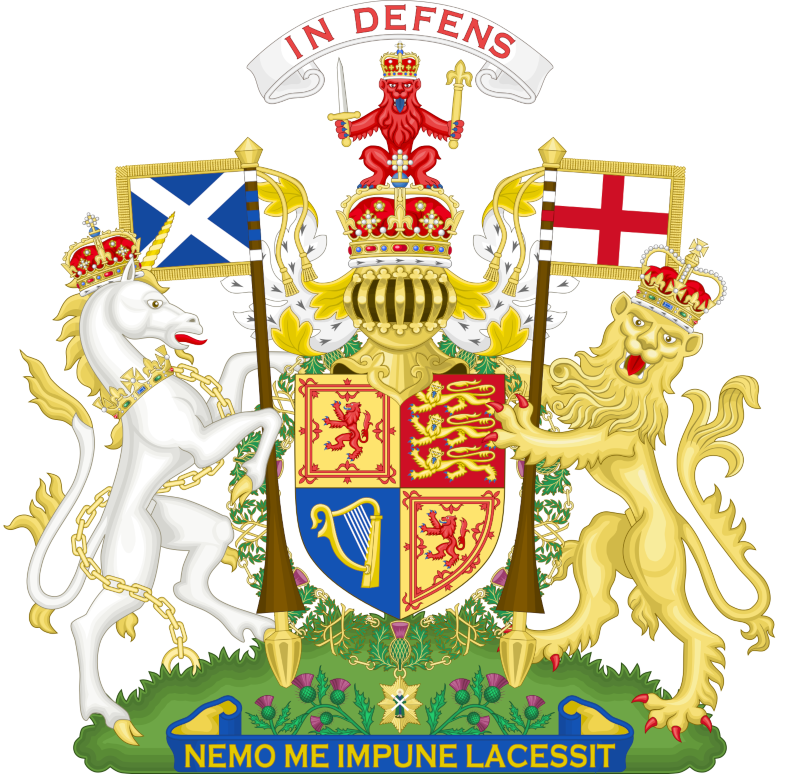 When's National Unicorn Day?
Yes, National Unicorn Day is a thing - it's celebrated on 9th April in a variety of ways.
While many people are happy to simply don their favourite sparkly horned headband, Scotland has been known to take a more reverent approach. On Unicorn Day in 2017, artist Woody Fox created a seven-foot sculpture of a unicorn made from willow for Crawick Multiverse in Dumfries and Galloway.
But don't worry, there's still an element of whimsy to the day. In 2019, the folk at Stirling Castle even tracked down a unicorn for the children to pet.


View this post on Instagram
A post shared by Stirling Castle (@visitstirlingcastle) on

What's the HMS Unicorn?
The HMS Unicorn is a ship which resides in the Port of Dundee. It was launched in 1824 and is one of the six oldest ships in existence in the world. What makes this ship magical? The majestic unicorn figurehead at its prow, of course! It's a symbol of the Scots navy, and many Scottish naval ships have used the same name over the years.


View this post on Instagram
A post shared by HMS UNICORN (@hms.unicorn) on

What're the alleged healing capabilities of the unicorn horn?
The unicorn's horn, also known as an alicorn, was believed to have many healing properties, particularly in the 17th century. Many apothecaries would claim to stock powdered unicorn horn (which was usually walrus ivory or rhino horn). Recipes that included unicorns' horns were said to cure a range of illnesses such as boils and the plague. Only the wealthy could afford alicorn; as unicorns were so 'rare,' even a pinch of it powdered was incredibly expensive to purchase.
Is there a unicorn theme park?
Unicorns tend to inspire unbridled enthusiasm and even slightly obsessive adoration… to the point where unicorn fans in the Philippines dedicated an entire coastal theme park to these beautiful beasts! Inflatable Island in Subic features its very own unicornzilla; a massive inflatable unicorn which carries 20 people. So if you're after magic and sunshine, it's a pretty sweet deal.


View this post on Instagram
A post shared by Home of Unicorn Island (@inflatableisland) on

What's the difference between a unicorn and a kelpie?
The unicorn and the kelpie are integral to Scottish folklore, and both are horse-like, with subtle differences. A unicorn is land-based with a single horn upon its head. A kelpie is an evil water-spirit which haunts Scotland's lochs. While it usually takes on the shape of a horse, the kelpie can also pose as a human.
The best place to see kelpies is in Falkirk, where Andy Scott's giant metal sculptures meet Scotland's dramatic skyline. The Rabbie's 1-day tour to Loch Lomond National Park, Kelpies and Stirling Castle (departing from Edinburgh) stops in at this incredible monument.
Where are the most Instagrammable unicorns in Edinburgh?
- The Thistle Chapel, St Giles Cathedral.
- Mercat Cross, Edinburgh Old Town.
- Above the fireplace in the royal palace at Edinburgh Castle.
- Holyrood Palace Gates & the entrance to the Queen's Gallery.
- Mason's Pillars, The Meadows.
- Mural on the corner of Leith Walk and Albert Street.
If you're more of a foodie instagrammer, head to Cuckoo's Bakery or Bibi's Bakery in Edinburgh. Both amazing bakeries sometimes have colourful window displays of unicorn cakes and cupcakes – yum!
Where can I see Unicorns in Scotland?
- Statues, tapestries and coats of arms throughout Stirling Castle, Stirling.
- Statues flanking the entrance to Delgatie Castle, Aberdeenshire.
- A life-sized model unicorn at The Stables at Cromarty on The Black Isle.
- Stonemasonry flanking doorways at St Andrews University, St Andrews.
- The Doulton Unicorn pillar in Springburn Park, Glasgow.
- Unicorn mural in Shilling Brewing Co, Glasgow.
- Bordalo II Unicorn mural, 62 Union Row, Aberdeen.
It's also rumored that the notorious Duke of Wellington Statue in Glasgow is sometimes adorned with a second traffic cone to transform his humble horse into a majestic unicorn. After all, why should the Duke alone enjoy all the fanfare?
Can I see unicorns on a Rabbie's tour?
The Mercat Cross in many Scottish villages and cities depicts a regal unicorn. You can see these unicorn statues on several of our 1-day tours departing from Edinburgh which explore charming villages such as Jedburgh, Melrose and Falkland.
Scotland's castles also liberally use the unicorn in stonemasonry, tapestries and furniture. It's splashed about so often in Stirling Castle, it's hard to walk ten paces without spotting one. Embark on our 1-day tour to Loch Lomond National Park, Kelpies and Stirling Castle and you can enter the royal palace to view the beautiful tapestry inspired by the Mystic Hunt of the Unicorn.
Are you an Outlander Fan? Both our Outlander 1-day and 4-day tours stop at an abundance of sites featuring Scotland's national animal. At Linlithgow Palace you'll find the unicorn woven into the ornate, ancient fountain in the central courtyard. In the quaint villages of Falkland and Culross you can pose with the iconic unicorn statue in the centre of both towns.


View this post on Instagram
A post shared by ???????????????????????????? (@symokiki) on
Want to know more about Scotland's iconic animals? Highland Cows are both adorable and incredibly hardy. But how do they see through all that hair? Find out here.